Connecting Obsessions.
Published in paperback format.
A very brief summary of the story.
More information, including sample chapters and a few reviews may be seen on the next page.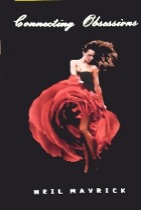 The Time Traveler's Wife meets  Notting Hill
In his early twenties, budding scientist Richard Stevenson stumbles across a newspaper picture of a young actress taken at a Gala Dinner in Los Angeles in 2014. Intrigued by the haunted expression on her face, he researches her career and discovers that she killed herself in 2017 aged just 26. This triggers an obsession with the girl, an obsession that will result in a journey never attempted before.
Many years earlier, Rachel Starr is a wannabe actress. She has been in Hollywood for two years but is not alone. There are hundreds like her, many facing dangers from those who would entice them into the world of pornography, prostitution, or simply into bed. Then, one day, she finds herself in the clutches of a sexual predator.
Paul Lander is an enigmatic character seemingly possessing an intimate knowledge of what the future holds for Rachel - and, indeed, the rest of us.
**  **  **
Richard, Rachel and Paul. What is the connection between the three?  
How can there even be a connection between the three?
The answer lies in obsession. In Paul Lander's three connecting obsessions.
Connecting Obsessions, a novel by Neil Mavrick.
BlueInk Reviews describes Connecting Obsessions as  . . .
A shrewdly constructed page-turner,
A highly entertaining, emotionally compelling read.